Vitamin D Test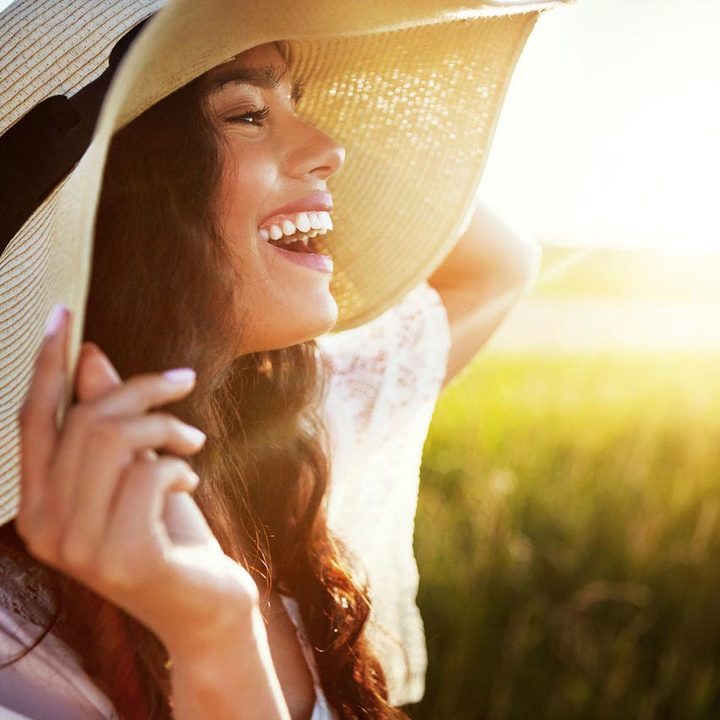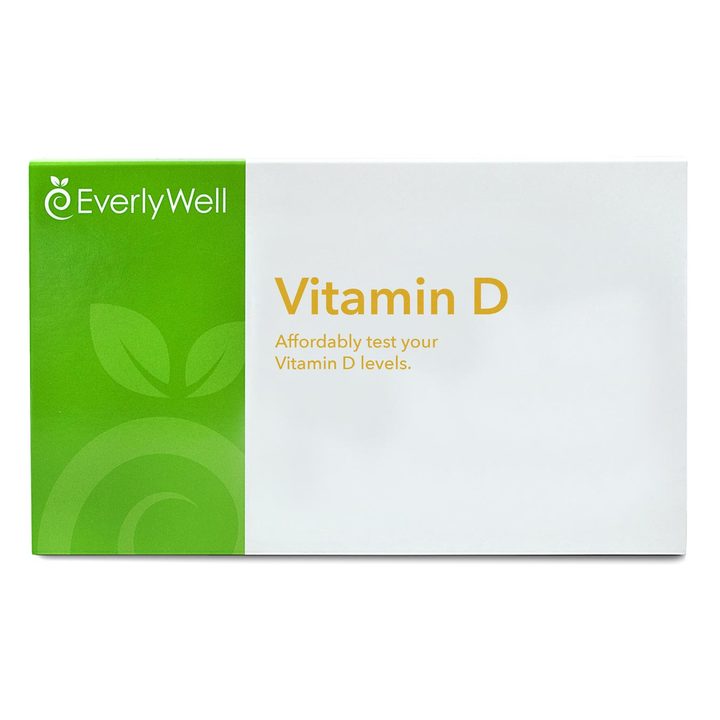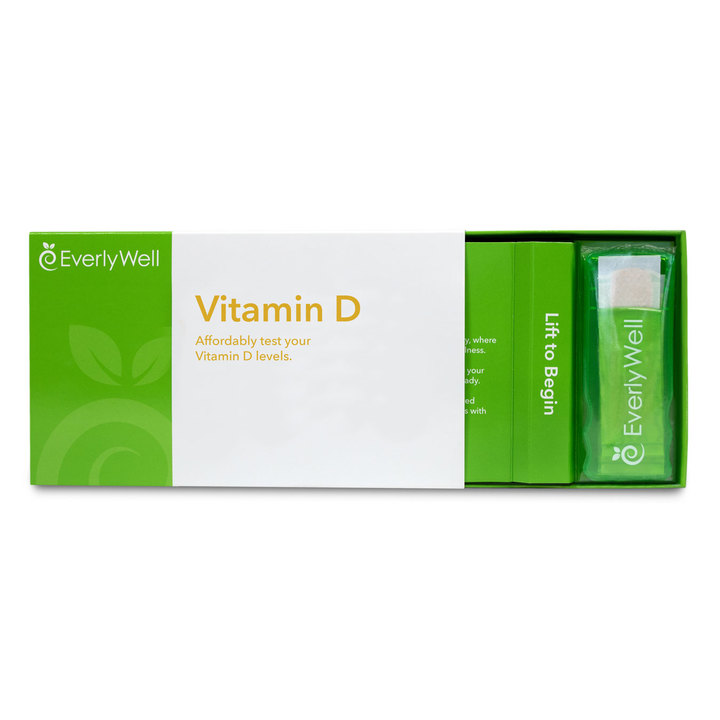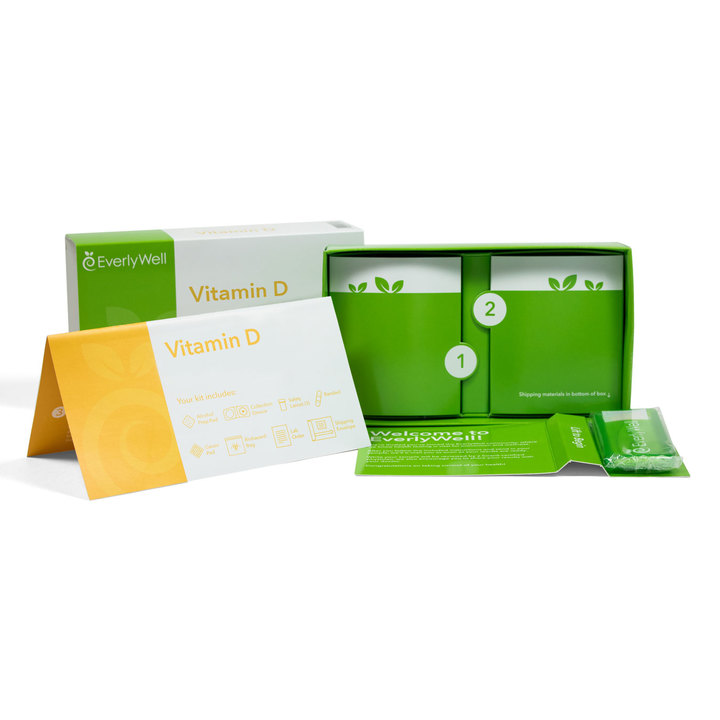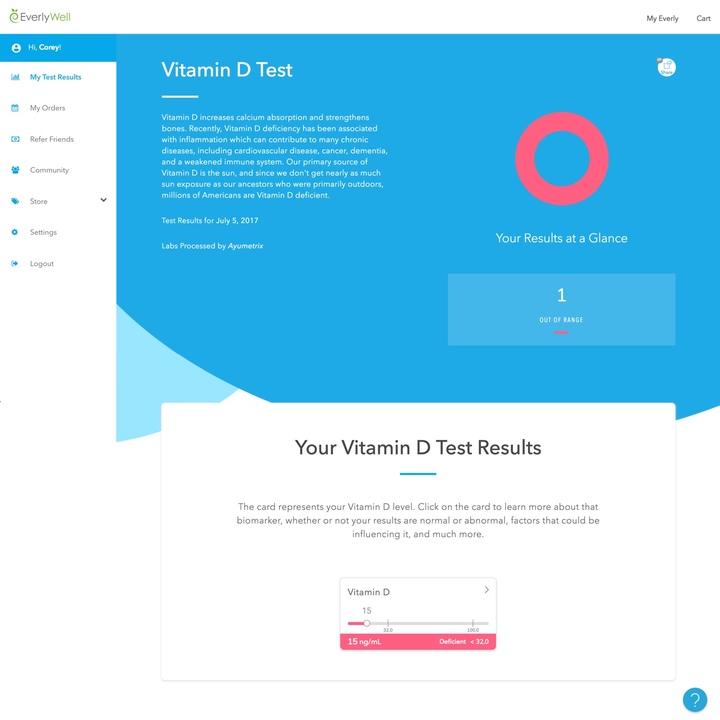 Perfect test to affordably screen for Vitamin D deficiency.
Measures your personal Vitamin D levels and compares it to healthy ranges.
Quick and easy sample collection - only a few drops of blood needed. We provide easy-to-follow instructions and materials to collect your own sample on your own time.
Test kit shipped directly to you! No need to go to multiple appointments normally required by traditional labs. No copays, no time off work, no dingy labs.
View beautiful, easy-to-understand results online within 5 business days.
Access and share your results with anyone via our secure online portal.
Tests are of the highest accuracy available and performed by the most experienced labs in the nation.
Your results are independently validated by a physician in your state to ensure validity and reliability.
Itemized receipts available upon request that you can easily submit for insurance reimbursement.
More...
Vitamin D Test
Vitamin D plays a vital role in the body's ability to regulate the absorption and levels of calcium and phosphorus. It also greatly influences your ability to maintain a healthy bone structure, reduce inflammation, and promotes cell growth.
Commonly referred to as the "Sunshine Vitamin," Vitamin D is fat-soluble and is stored in the fatty tissues of the body, which is then released when not in direct sunlight. We typically get 50-90% of our Vitamin D from the sunlight itself, with the remainder coming from our diet, where it is mostly found within fatty fishes (sardines, salmon, mackerel etc.), egg yolks, and fortified dairy products.
Vitamin D deficiency is also believed to contribute to serious illnesses like:
Cardiovascular Disease
Many Different Types of Cancer
Diabetes
Dementia
Alzheimer's
Erectile Dysfunction
Infertility
Parkinson's Disease
Multiple Sclerosis
Osteoporosis
Osteoarthritis
Rheumatoid Arthritis
Psoriasis
A Variety of Autoimmune Diseases
Fibromyalgia
Periodontal Disease
Schizophrenia
Who should take this test?
Vitamin D is widely known to be essential for strong bones as it helps the body use calcium, but if you are deficient, there are a wide variety of other symptoms one can experience:
Excessive Sweating
Muscle Weakness and/or Pain
Broken Bones Due To Low Bone Density
Chronic Pain
Joint Pain
Depression
Excessive Fatigue
Slow Wound Healing
Hair Loss
Inability to Concentrate
Headaches
Abnormal Bowel Movements (Constipation & Diarrhea)
What will my results tell me?
Your results will contain your personal level of Vitamin D and whether it is low, normal, or high as compared to someone who shares a similar demographic profile as you (age, gender, etc.).
What guidance will I get along with my results?
EverlyWell will provide tailored advice about what to do next.If your results indicate that you may have a Vitamin D deficiency, we can provide guidance and general recommendations to improve your levels. We might also suggest other lifestyle changes that are often helpful in getting your body's levels within the recommended range.
Symptoms related to Vitamin D Test
You may experience some of the following symptoms if you have Vitamin D Deficiency
Excessive Sweating
Muscle Weakness and/or Pain
Broken Bones Due To Low Bone Density
Chronic Pain
Joint Pain
Depression
Excessive Fatigue
Slow Wound Healing
Hair Loss
Inability to Concentrate
Headaches
Abnormal Bowel Movements (Constipation & Diarrhea)
FAQs
CLIA Certified Labs
Doctor-Reviewed Results
Accurate and Reliable