Men's Health Test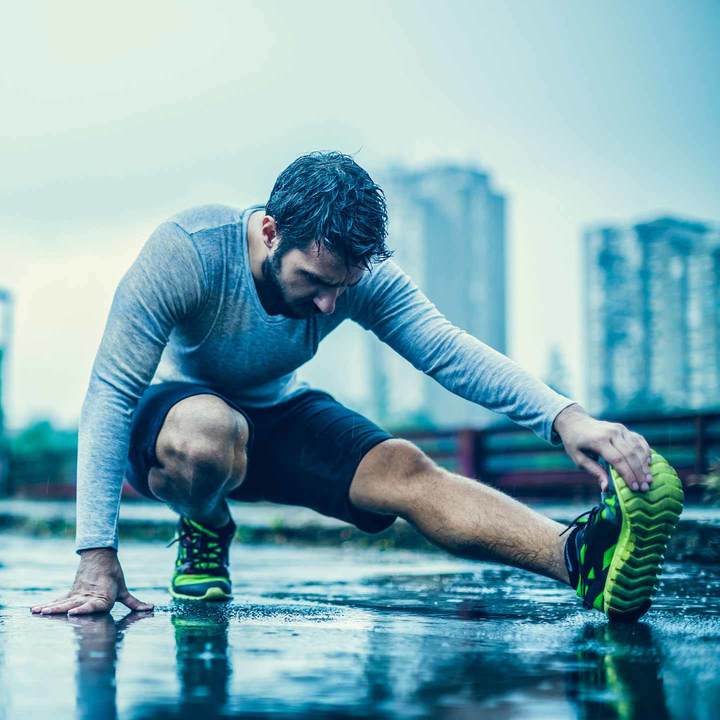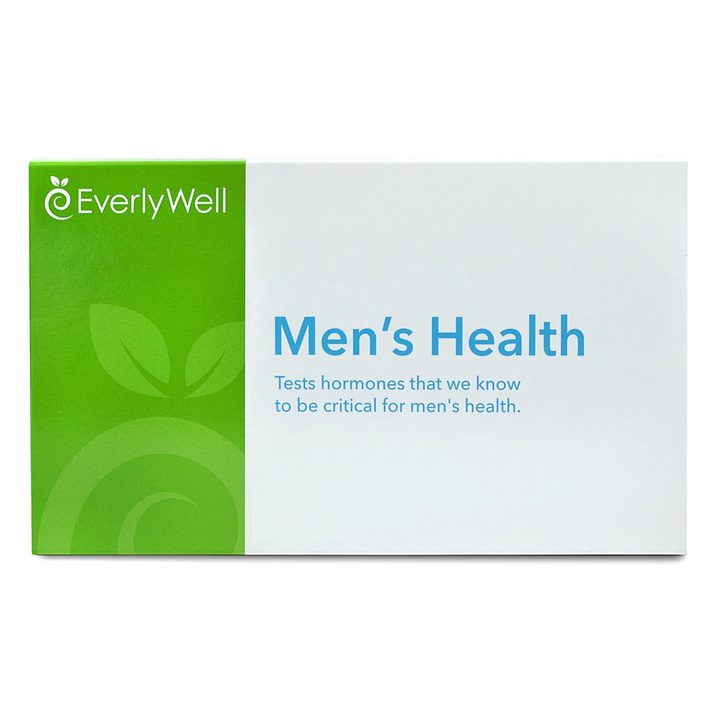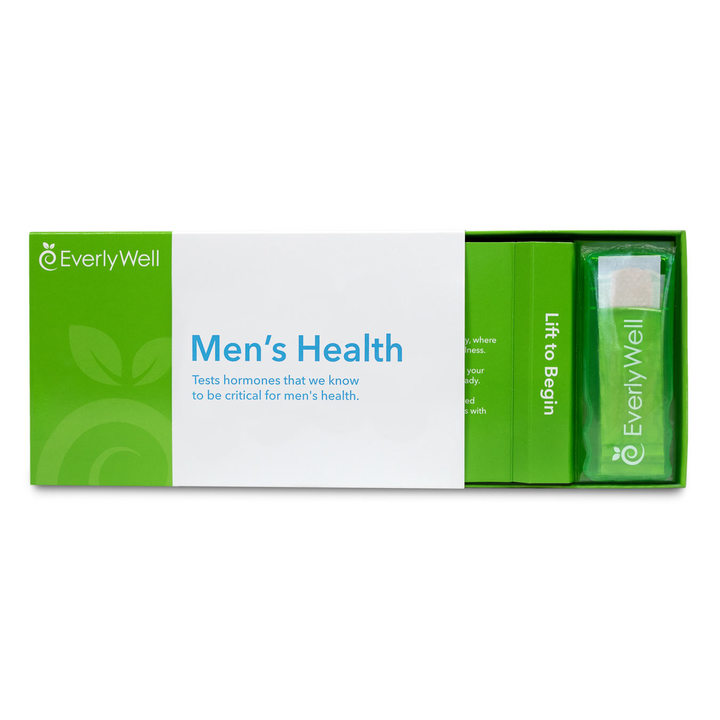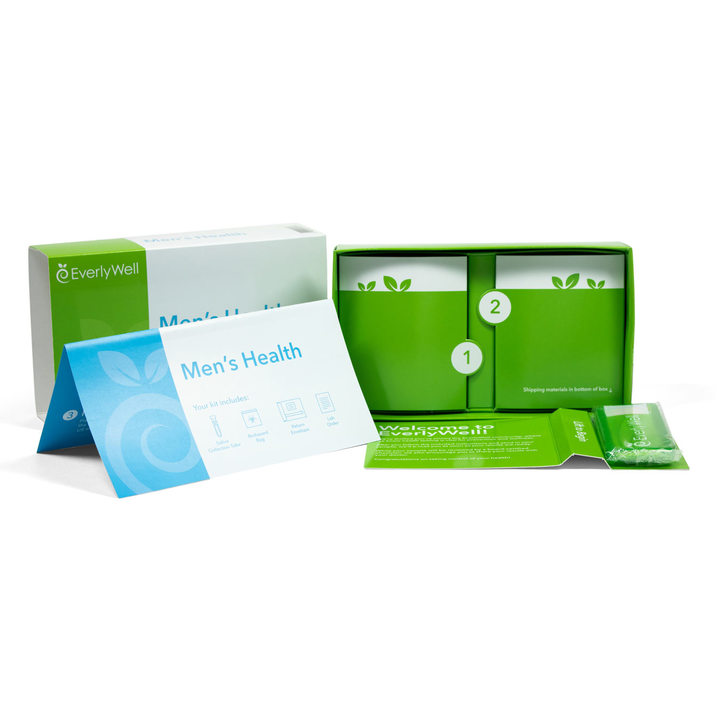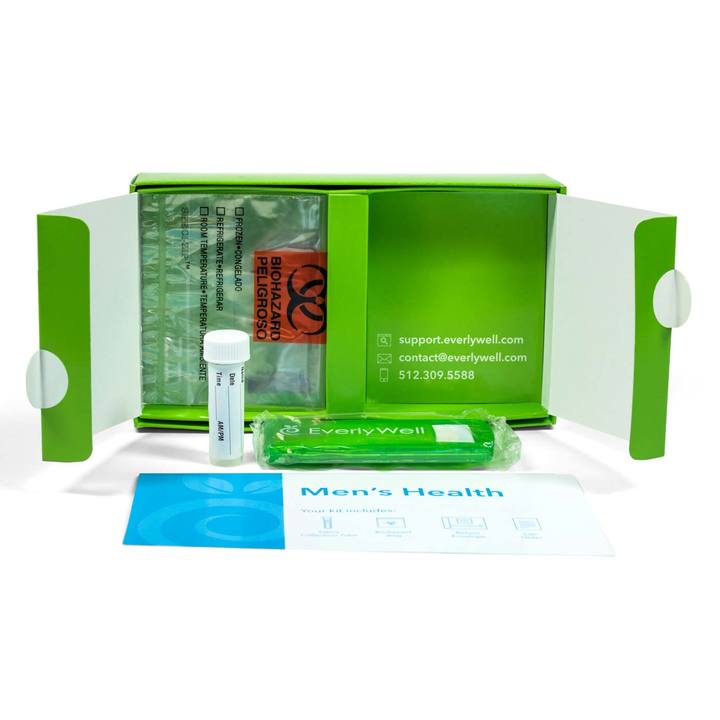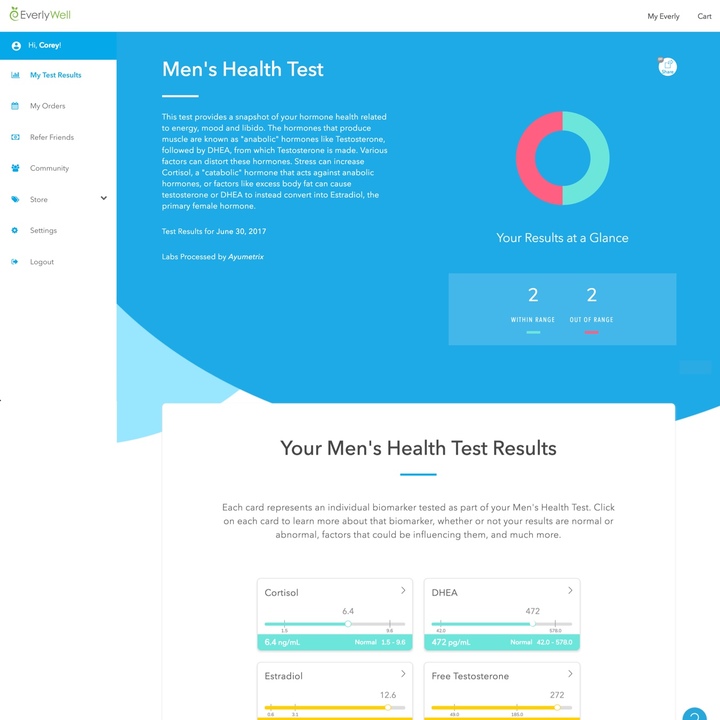 Markers Measured
Cortisol

DHEA

Estradiol

Testosterone
Know your levels -- compared with healthy ranges -- across the most vital hormones of men's health.
Testosterone, DHEA, Estradiol, and Cortisol, all included.
Taken on your own time, with easy-to-follow directions. All that's required is a small saliva sample.
Test kit shipped directly to your door. No need to go to multiple appointments normally required by traditional labs. No copays. No time off work. No waiting rooms.
We work with accurate and certified partner labs.
View beautiful, easy-to-understand results online in just a few days instead of a few weeks.
Results are provided via an easy-to-interpret online report complete with visual markers & tips for taking action on your measurements.
Access and share your results with anyone, including your doctor, via our secure online portal.
Your results are independently validated by a physician in your state to ensure validity and reliability.
More...
Men's Health Test
As a male you require well-balanced testosterone levels to perform at your best, but truly knowing your health requires understanding far more than testosterone.
The EverlyWell Men's Health Hormone Test accurately measures your personal levels across some of the most important hormones in a man's daily life:
Testosterone
DHEA
Estradiol
Cortisol
With one simple saliva test taken shortly after waking, our labs will give you an accurate assessment on exactly where you stand with each of these critically important hormones.
Testosterone:
Testosterone is a hormone that typically exists in far greater amounts in men than women. This hormone plays a key role in muscle mass, body hair, athletic ability, sex drive, energy levels, and much more.
Testosterone peaks for most men during their twenties and decreases somewhat with age. The at-home test will provide an accurate read on your personal levels as compared to other healthy men, indicating whether you have high or low testosterone.
DHEA:
DHEA (Dehydroepiandrosterone) is the most common steroidal hormone found in the body. It is produced by the adrenal glands and gets made into testosterone and estrogens, and can even act like testosterone to support muscle-building, burning fat, mood, libido, etc. A normal male should increase production of DHEA throughout their twenties with a steady, predictable decline in levels during aging.
A measurement of DHEA levels in your own body provides another indication of hormone production levels and where problems may lie.
Estradiol:
Estradiol is a the most prevalent form of Estrogen. Even though primarily a female hormone, it is found in men and can be formed from DHEA or testosterone. This is a normal, ongoing process during aging but high Estradiol levels may indicate problems with your body's handling of testosterone, gland function, or other health issues.
In fact, for men with weight issues, belly fat can actually trigger a vicious cycle by converting testosterone directly into estradiol causing further fat gain, mood issues, and more.
By measuring estradiol in your own body against common ranges for healthy men, you can get an indication of what your body is doing with testosterone and whether this is leading to optimal health.
Cortisol:
Cortisol is the primary stress hormone and can help deal with acute stress. With persistent stress, chronically elevated cortisol levels can result in poor sleep, weight gain, testosterone decrease, poor exercise, performance, declines in energy, and much more. Measuring this hormone along healthy male ranges will give a final indication of where you are in your hormone balance.
Our at-home men's health test measures cortisol along with the other three hormones can help identify how stress may be affecting your other hormones.
Who Should take this test?
Men of any age may be interested in understanding their testosterone, estradiol, cortisol, and DHEA levels as these - when measured together - offer greater insight into their overall health.
By getting knowing these critical hormone levels, men can begin to understand and take control of hormonal imbalances that may be impacting their muscle growth, sex drive, energy levels, mood, and much more.
Changes in hormonal balance are normal with age -- but major spikes or dips can be a cause for concern. Our at-home men's health test is easy to take and makes sense of what may be going on.
What will my results tell me?
Your results will show your personal placement along known, healthy ranges for each of the four critical hormones measured.
You'll find out whether your levels are totally normal, on the low-end, high-end, or completely out-of-range for each of these hormones. By knowing this information, you'll understand not only what may be causing certain physical or mental changes in your life, but also will have a clearer picture of what you should do next to take back control.
What guidance will I get along with my results
EverlyWell will provide evidence-based guidance about lifestyle changes you can make that can positively impact your results and more importantly your health. It's always a great idea to share your results with your doctor, and we'll give you head-start.
Symptoms related to Men's Health Test
CLIA Certified Labs
Doctor-Reviewed Results
Accurate and Reliable