You've Succesfully Logged In
EverlyWell: DNA based testing with EverlyWell and Helix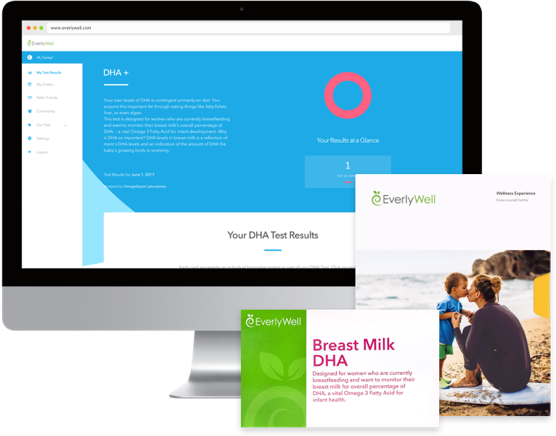 Take your health & wellness insights to the next level with your genetic data thanks to our partnership with Helix.
Who is Helix?
Helix is a personal genomics company with a simple but powerful mission: to empower every person to improve their life through DNA. Helix handles sample collection, DNA sequencing, and secure data storage so that partners like EverlyWell can integrate DNA insights into products across a range of categories, including fitness, nutrition, health, family, and more. Helix's Next Generation Sequencing laboratory is CAP-accredited and CLIA-certified laboratory.
Why did we partner with Helix?
EverlyWell is proud to bring the latest in DNA sequencing technology to our customers through the Helix marketplace. By sharing DNA information alongside key nutrition and metabolic biomarkers that we already offer, EverlyWell is at the forefront of genomic and biomarker consumer testing.
Our partnership with Helix makes EverlyWell one of only a handful of companies in the U.S. offering combined biomarker and genomics testing.
What DNA products does EverlyWell
offer with Helix?
Our two new DNA-based testing kits (Food Sensitivity, and Metabolism) will expand our established portfolio of at-home lab testing and give our customers the opportunity to explore both the environmental and genetic factors that may be affecting your health.
Each test that includes genomic data is marked with a plus symbol. Look for the plus symbol to see which tests have biomarker + genomic data!

Food Sensitivity+
Measure sensitivity to foods and the impact DNA may have on the ability to digest certain foods and nutrients.

Metabolism+
Check current hormone levels and learn how DNA factors affect weight through alterations in metabolism.
How does the process work with Helix and EverlyWell?
Order and provide health history
Physician reviews your information
Get your Helix & EverlyWell kits sent to you
Get an email when your results are ready
With Helix, customers only need to have their DNA sequenced once to unlock the new EverlyWell products. When a new Helix customer purchases an EverlyWell product via the Helix marketplace, they will receive two kits in the mail: one to collect a DNA sample and one to collect their biomarker sample.
These kits will be returned in the postage-paid envelopes included with each kit. After returning the samples, biomarker results will be available within 5 days. For new Helix customers, the DNA-based results will be available within 6-8 weeks.
All of your results will only be available on EverlyWell's platform. Though you'll have two kits, all results will be provided through the typical EverlyWell experience which is accessible from any device.

Where can I order?
The EverlyWell DNA products are available on the Helix marketplace, along with more information about the products and what's included.

Have a question?
If you have a question, simply feel free to click the button below to search our FAQs or us a message.